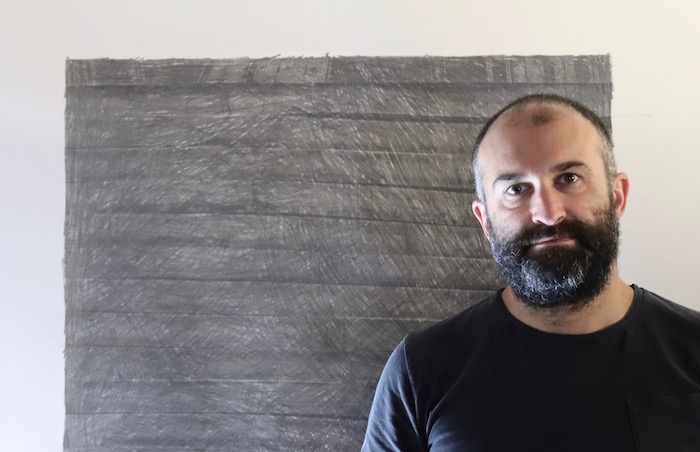 Roberto Mascella
Sculpture, installation, drawing
Valdagno, 1971. Roberto Mascella lives in Vicenza and works in Cornedo Vicentino.
Marco Senaldi, IL MARMO E LA CELLULOIDE
Medium
Scultura
Disegno
Fotografia
Installazione
Pittura
Biografia
Dopo essersi diplomato presso l'Accademia di belle arti di Venezia nel 1997, ha proseguito la sua attività artistica partecipando ad una serie di mostre collettive e personali tra il 1996 e il 2019, periodo durante il quale la ricerca artistica ha riguardato temi legati ad una scultura concepita come atto plastico in relazione al luogo, realizzando un ciclo di interventi chiamati "architetture del niente", "pietre galleggianti" e "sculture rigenerate". Tali azioni mirano a mettere in crisi la certezza fisica degli elementi e sono oggi motivo di particolare interesse per Roberto Mascella poiché riguardano le ambigue linee di confine che intercorrono tra reale e simulazione del reale.
Mostre e progetti
2018:"ENDANGERED BODIES INTERNATIONAL CONFE- RENCE AND ART EXHIBITION",
Representing and poling the body in Western Culture School of Arts and Humanities – FLUL, Lisbon.
2016: "INCURSIONE", Lago monte Summano Schio (VI). Personale.
2015: "LUOGHI DEL PRESENTE", Parco delle cascate, Calvene (VI).
2014: "NON POTENDOMI ARRAMPICARE SULLE NUVOLE PRESI PER LE COLLINE", Passerella del Tessitore (ponte sul fiume Agno), Valdagno (VI).
2013: CONCORSO V.A.G.A (primi tre progetti selezionati), Basilica Palladiana, Vicenza.
2010: "ONIRICA", Palazzo della Gran Guardia, Verona.
2009: "EPIDE®MIE" Parco Tematico, Giardini Salvi, Vicenza.
2008: "CHORE=SPAZIO" sentieri nell'arte, Parco del Tasso, Caprino Veronese (VR).
2007: "ABBIAMO FATTO BENE AD USCIRE", SPAC di Buttrio (UD).
"ART FIRST" Arte fiera di Bologna, Cortile dell'Archi- ginnasio Piazza Maggiore, Bologna. Personale. "OGGETTO LIQUIDO" Arte fiera di Vicenza, fiera di Vicenza,Personale.
2006: "APPARENZA", Galleria A2, Vicenza, Personale.
"IL MARMO E LA CELLULOIDE" Arte contemporanea e visioni cinematografiche, Parco e villa della Versiliana, Marina di Pietrasanta (LU).
"BIENNALE ADRIATICA ARTI NUOVE"
Raid – Palazzina Azzurra, Aviaria – La Città, San Benedet- to del Tronto.
2005: "SOTTOZERO" Sei interventi con relativi turbamenti, Azioni Inclementi, Palazzo Fogazzaro, Schio (VI).
2004: "ZILC", Galleria Arte Ricambi, Verona, Galleria NINAPI', Ravenna.
CONCORSO "UN'ANTENNA PER LA LAGUNA DI VE- NEZIA", Facoltà di architettura (selezionati tra i primi 5 progetti del concorso),Venezia.
2003: "N-E", Associazione culturale "O' Artoteca", Milano.
2002: "PUNTI DI RIFLESSIONE", intervento all' "interno" del quotidiano, Studio Notarile avv. G. Di Marco, Valdagno(VI), Personale.
2000: "SEGNALI ALL'ORIZZONTE", Reggia dei Carraresi, Padova.
1999: "CANTIERI APERTI", Galleria Città di Padova.
"10×10", Associazione culturale "L'Officina", Vicenza. "PRODUZIONE RESISTENTE" Fabbricato in Italia, L'Of- ficina e Palazzo Carminati, Museo Virgiliano, Pietole – ex convento di S. Maria, Gonzaga (MN).
1998:"EMERGENZA" nuove immagini under 28, LAMeC La- boratorio per L'Arte Moderna e  Contemporanea, loggia piano terra,Basilica Palladiana, Vicenza.
1996: "TRIESTE CONTEMPORANEA" concorso internaziona- le di design
Studio Tommaseo (selezionato per la mostra finale), Trieste.
Publications
"Il marmo e la celluloide", arte contemporanea e visioni cinematografiche, Silvana Editoriale, Cinisello Balsamo, Milano 2006.
Body Shelter, Roberto Mascella
Floating Stone, Roberto Mascella